Visiting Artist Series: TeaMarrr and Kareem James (Virtual Event)
This event has passed.
Please see the
events listing
for upcoming events.
Event Dates
Friday / September 25, 2020 / 1:00 pm
See description for how to participate virtually.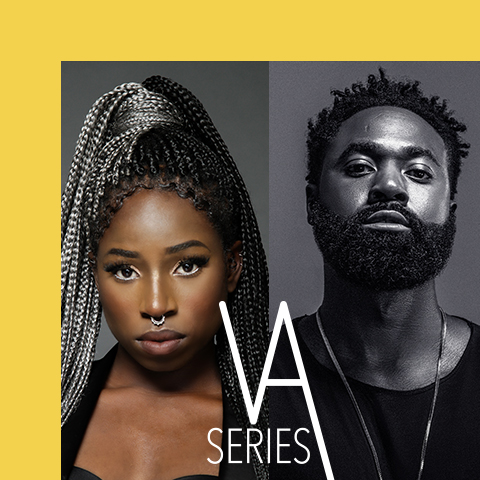 The Berklee Visiting Artist Series is a live, interactive forum featuring some of today's most innovative professional performers and creators. These moderated discussions will focus on the topics of artistry, entrepreneurship, and social justice, and students will have the opportunity to actively participate by posing questions directly to guests. This event features a live interview with TeaMarrr and Kareem James, moderated by Tonya Butler, chair of the Music Business/Management Department. 
TeaMarrr has been shaking up pop, R&B, and hip-hop with a sharp sense of humor (and sharper mic skills), flaunting an otherworldly outsized fashion sense (like Grace Jones gone Candy Land). Blessing each phase of her art with a teacup (of origins she will not disclose), TeaMarrr imagined a world of her own—and actually went one step further to bring it into existence. Since emerging in 2017, the Boston-born and Los Angeles–based Haitian-American songstress backed up every word through consistent independent output, leaping from an underground phenomenon to the flagship artist on Issa Rae's Raedio, in partnership with Atlantic Records. Acclaimed by Flaunt, NPR, Ones to Watch, and Consequence of Sound, and streamed upwards of six million times, she turned personal promises into a wild, weird, and wonderful trip. She took the first step on her journey during a visit to Toronto, where, after freestyling to "Shook Ones, Pt. 2," her friends implored her to go further, setting off an explosive chain of events. In 2017, the independent Thanks for the Chapstick EP fueled early buzz with cuts like "In My Mind." However, everything changed with her 2018 single "One Job." Not only did it put up two and a half million Spotify streams and land her an spot opening for H.E.R. (handpicked by the star), but it caught the attention of Emmy-nominated director, writer, actress, and producer Issa Rae. The 2019 single "Kind of Love" pops off with its own kind of magic. Over 90s-style echo and horn samples, she bobs and weaves between sexy soul swagger, island mystique, and subversive appeal. Everything drips into an irresistible chant. In the end, TeaMarrr built all of this with a bigger purpose in mind, which becomes clear on her forthcoming full-length debut and so much more.
Music, hustle, and a well-rounded perspective were built into Kareem James at a young age. His family's ups and downs prepared the talented songwriter for the emotional rollercoaster ride that is the music industry. The Emmy-nominated songwriter has penned award-winning songs with global stars such as Kiana Lede, TeaMarrr, Nicole Scherzinger, Jay Sean, Alexandra Burke, and more, all while helping viral underground talent land major label record deals. In 2020 alone, he has worked on tracks with Wale, S.i.R., D-Smoke, and Rapsody. Growing up, the first-generation Trinidad and Tobago immigrant floated between the ghettos of Toronto and the well-off suburb Richmond Hills. James's father, a passionate calypso/soca singer and entertainer, introduced James to music and performance. With music and self-expression in his DNA, he began writing songs with his older sister and responding to open listings for managers and songwriters. He later moved to Los Angeles and quickly began making connections. James's first major break was writing on Nicole Scherzinger's "Freak" and "Wild Dream," which led to collaborations with Carmen, Alexandra Burke (winner of The X Factor), and Chrystina Sayers (Girlicious). James met Thamar Noel (a.k.a. TeaMarrr) at a studio session in Toronto and quickly hit it off creatively with the rising Haitian-American artist. 
James decided to stay in Toronto to work on TeaMarrr's self-released 2017 mixtape, Thanks for the Chapstick. During a writing and recording session originally intended for Rihanna, James and TeaMarrr recorded a demo called "One Job," which later became a song with 2.5 million Spotify streams and led to TeaMarrr's major label deal with Issa Rae's Raedio via Atlantic Records. The duo's music can be heard on HBO's Insecure, BET's First Wives Club, and Netflix's Never Have I Ever. James recently won an Emmy Award for Outstanding Original Song as a writer on the soulful "More Love" by Ashly Williams (of June's Diary) for its use on CLEO TV's Giants. He was also a writer on Kiana Lede's "Shame" (Republic/UMG) from her 2018 album, Selfless.
How to Participate
RSVP in the Berklee Career Manager. Once you are registered, we will send you a link to access the Zoom webinar 24 hours before the event. 
Faculty and staff who wish to attend the event may request access. For questions, please contact Liza Levy, talent relations manager.