Visiting Artist Series: Mickey Guyton and Karen Kosowski (Virtual Event)
This event has passed.
Please see the
events listing
for upcoming events.
Event Dates
Wednesday / October 14, 2020 / 1:00 pm
See description for how to participate virtually.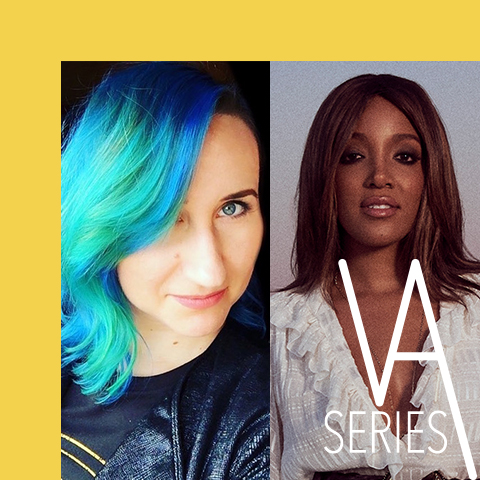 The Berklee Visiting Artist Series is a live, interactive forum featuring some of today's most innovative professional performers and creators. These moderated discussions will focus on the topics of artistry, entrepreneurship, and social justice, and students will have the opportunity to actively participate by posing questions directly to guests. This event features a live interview with Mickey Guyton and Karen Kosowski, moderated by Lydia "LovelySinger" Harrell, instructor in the Voice Department. Recently, Guyton made history as the first Black woman to perform an original song at the Academy of Country Music (ACM) Awards.
Mickey Guyton was born in Arlington, Texas, and began singing in church at a young age. She was drawn to a variety of artists with big voices, including Dolly Parton, Cece Winans, Whitney Houston, and LeAnn Rimes. After signing to Capitol Records Nashville, her first appearance was an all-star concert at the White House and recorded by PBS. In 2015, she released her self-titled EP featuring her debut single "Better Than You Left Me." The following year, she was nominated for her first ACM Award for New Female Vocalist. She returned to the ACM Awards in 2019, performing "I'm Standing with You" from the Breakthrough movie soundtrack alongside Chrissy Metz, Carrie Underwood, Lauren Alaina, and Maddie & Tae. The last few years, Guyton has been focused on her songwriting and released her EP Bridges on September 11. Bridges includes "What Are You Gonna Tell Her?", which she performed at the 2020 ACM Awards and Variety called "exquisitely sung, moving, and brilliant," as well as "Black Like Me," a song she cowrote in March 2019 at a cross-genre writing camp. Due to demand, "Black Like Me" was released in June and has been praised by critics and fans alike, with HITS noting the song "nudges America's conscience with personal truth and gospel fervor." Her latest single, "Heaven down Here," was written in recent months as a plea to God to spare a little love for this world in need. Guyton and her music have been featured recently by such media outlets as the New York Times, CBS This Morning, NPR, Billboard, and the Los Angeles Times, among many others.
Karen Kosowski is a versatile multigenre writer and producer based in Nashville, Tennessee. Raised on a wide variety of pop, rock, classical, and country music in the Canadian prairie city of Winnipeg, in the early 2000s she packed up her car and drove herself, her instruments, and her recording gear to Toronto, where she spent many years creating both pop and country music before following her heart and relocating to Nashville. With her formal musical training, traditional songwriting background, multi-instrumentalist abilities, varied influences, and two decades of producing, pop programming, and engineering skills, she is a virtual Swiss army knife in both the writing room and recording studio. Kosowski has contributed to a range of hits as a producer, a writer, and/or a mixer. Recent highlights include cowriting the gold-certified, no. 1 Canadian and Australian country single "What a Song Should Do" for Tim Hicks; cowriting two Canadian gold-certified singles for Brett Kissel; and producing, mixing, and cowriting the six-week no. 1 Australian country single "Memphis T-Shirt" for Melanie Dyer. She produced the majority of Mickey Guyton's Bridges EP (Capitol Records Nashville) and cowrote the critically praised track "What Are You Gonna Tell Her?" While her recent work has been primarily focused on country music, pop music is also close to Kosowski's heart, as is collaborating on original tracks for feature films. For the film Breakthrough, she cowrote with Guyton and then produced and mixed "Hold On," and she has also written music for the films 88 (for which she received a 2016 Canadian Screen Awards nomination) and Stuntwomen: The Untold Hollywood Story.
How to Participate
RSVP in the Berklee Career Manager. Once you are registered, we will send you a link to access the Zoom webinar 24 hours before the event. 
Faculty and staff who wish to attend the event may request access. For questions, please contact Liza Levy, talent relations manager.