Visiting Artist Series: Michael Franti (Virtual Event)
This event has passed.
Please see the
events listing
for upcoming events.
Event Dates
Friday / October 9, 2020 / 1:00 pm
See description for how to participate virtually.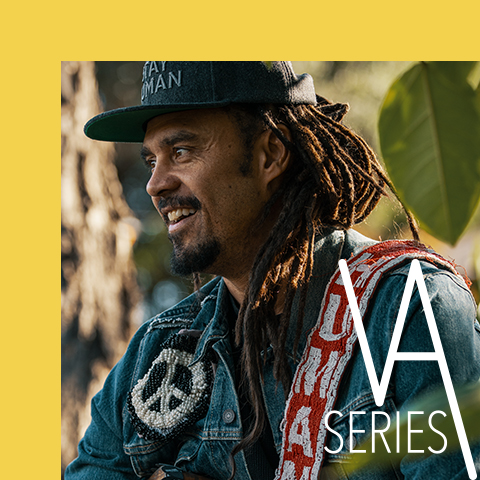 The Berklee Visiting Artist Series is a live, interactive forum featuring some of today's most innovative professional performers and creators. These moderated discussions will focus on the topics of artistry, entrepreneurship, and social justice, and students will have the opportunity to actively participate by posing questions directly to guests. This event features a live interview with Michael Franti, moderated by Prince Charles Alexander, professor in the Music Production and Engineering Department.
Michael Franti is a globally recognized musician, humanitarian, activist, and award-winning filmmaker revered for his high-energy live shows, inspiring music, devotion to health and wellness, worldwide philanthropic efforts, and power of optimism. Throughout his multidecade career, Franti has earned three Billboard no. 1s with the triumphantly hopeful hits "Sound of Sunshine," "Say Hey (I Love You)," and "I Got You," as well as five Top 30 Hot AC singles, nine Top 25 AAA singles, and three Billboard Top 5 rock albums. In January 2019, Franti released his self-directed documentary Stay Human, which won an array of awards at film festivals worldwide and influenced his writing for his album Stay Human Vol. II (Thirty Tigers), which debuted at no. 1 on both the Americana and Independent Album charts, and received critical acclaim from USA Today, Billboard, Associated Press, and Paste. Michael Franti & Spearhead continue to foster their community both on and off stage with a wish-granting nonprofit, Do It for the Love, founded by Franti and his wife, Sara. Do It for the Love brings those with life-threatening illnesses, veterans, and children with severe challenges to concerts worldwide, fulfilling over 3,300 wishes and touching the lives of over 12,000 people to date. Penning op-eds for SPIN, Franti shares his insight on the current Black Lives Matter movement, providing readers with background on ongoing issues alongside his brand of positivity and hopefulness. Franti also owns SOULSHINE Bali, a 32-room, top-rated yoga retreat hotel located in Ubud, Bali. Amid touring, Michael Franti & Spearhead have been in recording studios in Nashville, Los Angeles, and San Francisco working with A-list writers and producers on their most diverse record yet, Work Hard and Be Nice, available now.
How to Participate
RSVP in the Berklee Career Manager. Once you are registered, we will send you a link to access the Zoom webinar 24 hours before the event. 
Faculty and staff who wish to attend the event may request access. For questions, please contact Liza Levy, talent relations manager.