Terri Lyne Carrington and Danilo Pérez Present Virtual Concert
October 7, 2020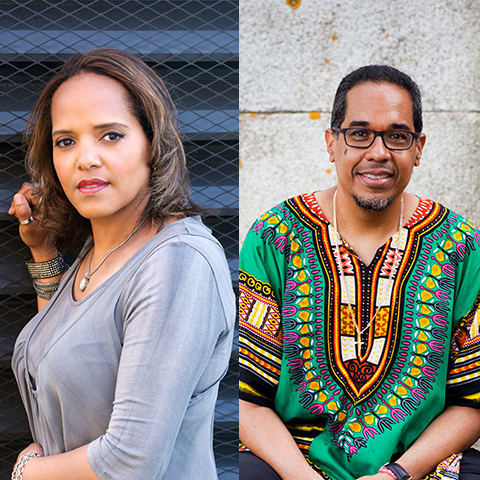 Berklee institute directors and acclaimed jazz artists Terri Lyne Carrington and Danilo Pérez will present the college's first Signature Series concert of the virtual fall 2020 semester. The free concert will take place on Thursday, October 29, at 7:30 p.m. EDT on Berklee's YouTube channel.
Carrington, founder and artistic director of the Berklee Institute of Jazz and Gender Justice, and Pérez, founder and artistic director of the Berklee Global Jazz Institute, will perform with students Veronica Leahy (saxophone) and Wenjun Wu (bass) from their respective institutes. The concert program will feature "Resolution" by John Coltrane, "Requiem" by Carrington, and "Gratitude" by Pérez.
Carrington and Pérez are Berklee alumni who met as students at the college in 1980. They first performed together in the mid-1990s with Mike Stern and John Patitucci.
A Grammy Award–winning drummer, composer, educator, and bandleader, Carrington has toured and performed with music icons such as Herbie Hancock, Wayne Shorter, Al Jarreau, Stan Getz, Dianne Reeves, and others. Her most recent album, Waiting Game, featuring her band Social Science, was acclaimed by critics and audiences alike. In 2019, she was recognized as a Doris Duke Artist for her ongoing contributions to the world of jazz.
"This Signature Series concert will showcase some incredible Berklee talent," said Carrington. "I'm always happy to be back on stage to perform with my brother, collaborator, and master jazz musician Danilo Pérez, as well as with these tremendous students."
Pérez is a Grammy-winning pianist, composer, producer, and educator who has collaborated with Dizzy Gillespie, Wayne Shorter, Wynton Marsalis, Roy Haynes, and Cassandra Wilson, among many others. Pérez won his second Grammy for Best Jazz Instrumental Album for his contributions to Shorter's 2018 release, Emanon, which also featured John Patitucci and Brian Blade. He is a UNESCO Artist for Peace, a cultural ambassador for Panama, and is the artistic director of the Panama Jazz Festival.
"I'm thrilled and honored to be a part of the virtual Signature Series this fall," said Pérez. "Working with the legendary Terri Lyne Carrington and these incredible student artists in one of the most extraordinary moments in our lives has been a memorable experience—I look forward to sharing this performance far and wide."