Summer in Boston via Berklee City Music
July 31, 2009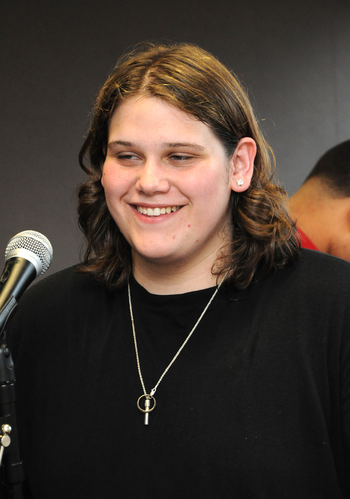 Eighteen teens received full scholarships to attend Berklee College of Music's Five-Week Summer Performance Program for high school students, July 13–August 14, in Boston. Through the Berklee City Music Network, a national partnership with community organizations that share the goal of changing teenage lives with contemporary music education, Berklee identifies talented and deserving teens to attend the summer program at the world's leading college of contemporary music.
They're among 900 high school students at the Five-Week Program from all over the world who will sharpen their playing or singing skills in private lessons, ensembles, and concert performances of jazz, rock, funk, pop, and r&b. They are immersed in musicianship and theory courses and attend lectures and demonstrations in songwriting, music synthesis, and music business, among other choices.
From Chicago, Randiss Hopkins is a pianist who attends Curie High School. He got hooked into Berklee at the Chicago West Community Music Center, which offers classes and programs in music education focusing on the development of musical skill and the teaching of music fundamentals including theory, ear training, music and its role in history, and language arts.
The scholarship winners from the Cleveland area are Brian Plautz, an alto saxophonist from Shaker Heights graduating from Shaker Heights High School; and Jonathan Thomas, a tenor saxophonist from Cleveland Heights graduating from Cleveland Heights High School. They are both members of the Cleveland Music School Settlement. This innovative program integrates instrumental and vocal instruction in rock and jazz, ensemble performance, and musicianship with state-of-the-art online learning materials.
Long Beach, California scholarship winner Laura Padilla is a vocalist currently attending St. Anthony High School. She is a member of South Central Los Angeles's A Place Called Home, a dynamic, nonprofit youth center. APCH provides educational programs, counseling, mentoring, music, dance, and art classes, and strives to help youth achieve a better sense of themselves and the world around them and thereby increase the likelihood that they will stay in school and go on to higher education and viable jobs.
Maryland's two scholarship winners are Carrington Brown, a drummer from Oxen Hill graduating from Suitland High School; and Jonathan Lotson, a pianist from Upper Marlboro graduating from Suitland High School. They are members of the Washington DC eSharp Music Center, which offers classes in music composition and performance as well as programming that focuses on building positive self-identities and leadership competencies.
Three scholarship recipients hailing from Memphis are Tasmine Ballentine, a vocalist graduating from Central High School; Ricardo Canady, an alto saxophonist, also graduating from Central High School; and Ashton Riker, a vocalist graduating from the Gateway Christian Home-Education Program. They are all members of Stax Music Academy, which provides students with music education and performance opportunities to enhance their leadership and academic skills and inspire them to facilitate community change.
Five scholarship recipients from New Jersey are affiliated with two City Music Network partners: New Jersey Performing Arts Center (NJPAC), which offers a variety of programs for talented actors, musicians, vocalists, and dancers; and Cobblestone Records, a youth entrepreneurial music school that gives students an opportunity to experience the music and recording industries. Three Newark residents are members of both programs: vocalist Michael Rodriguez, who attends Newark Arts High School; vocalist Kevin Bennett Jr., a graduate of Penobscot Job Corps Academy in Bangor, Maine; and vocalist Tanyshwia Stokes, who also attends Newark Arts High School. Bloomfield resident and trumpeter Wallace Roney IV, who attends Glenfield Middle School; and Roebling resident and vocalist Destiny D. Reese, who attends Florence Township Memorial High School, are both members of NJPAC.
Scholarship recipients from New Orleans are Benjamin Allen, a tenor saxophonist who graduated from Lusher Charter School; and Linton Smith, a trumpet player who graduated from Benjamin Franklin High School and the New Orleans Center for the Creative Arts. They are both members of Tipitina's Music Internship Program (T.I.P.s), where they benefit from the talent and wisdom of famed trumpeter and Berklee alumnus Donald Harrison. In April, the pair flew to Boston to rehearse with the Berklee City Music All-Stars, and the following day they rode a bus to New York City to perform with the group at an event to promote national music education for youth hosted by Quincy Jones.
From Philadelphia, pianist Nathaniel Coe attends the Philadelphia High School for Creative and Performing Arts. He is a member of the Mount Airy Cultural Center, which fosters the preservation of jazz as an American art form. The center develops discipline, respect, and leadership in its students through individual instruction with special emphasis on harmony, theory, and improvisation.
The two scholarship winners from the Pittsburgh area are Alec Chapman, a pianist currently attending Pittsburgh High School for the Creative and Performing Arts; and Dorian Gooden, a vocalist from North Versailles currently attending East Allegheny High School. They are members of the Afro-American Music Institute, which helps students of all ages to realize their talent through curriculum that embraces music unique to African American culture.
The three scholarship winners from the Seattle area are Aaron Liao, a bassist from Seattle currently attending Nathan Hale High School; Austin DeVries, a drummer from Edmonds currently attending Meadowdale High School; and Ronan Delisle, a pianist from Redmond currently attending Inglemoor High School. They are all members of Experience: The Band, a partnership between Experience Music Project/Science Fiction Museum and Hall of Fame. This innovative program integrates instrumental and vocal instruction in rock and jazz, ensemble performance, and musicianship with state-of-the-art online learning materials.
From Winchester, Virginia, saxophonist and flutist Demetrius "DJ" Turner currently attends Millbrook High School. He travels to Delaware to play with the Wilmington Youth Jazz Band, which is dedicated to the exposure, education, and cultural enrichment of students through jazz music education in order to maintain the future and longevity of the genre.