Free Outdoor Concert: Terri Lyne Carrington
July 15, 2009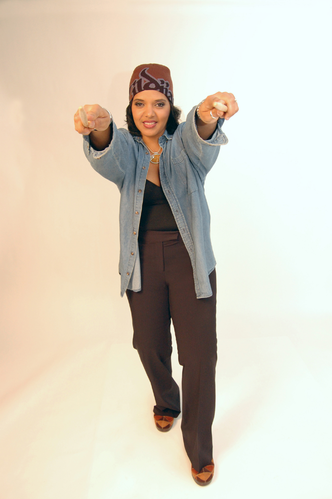 Jazz at the Fort was postponed until Sunday, August 9, due to the weather. 
Berklee College of Music and ParkARTS present music outdoors in Roxbury's historic Fort Hill neighborhood with the Terri Lyne Carrington Group and opener the Berklee City Music All-Stars. 
The annual Jazz at the Fort concert is free and will be held on Sunday, August 2, at 5:00 p.m., at the four-acre Highland Park on Fort Avenue, Roxbury. Rain date is August 9. Folding chairs, blankets, and picnics are encouraged. 
Jazz at the Fort is accessible from the MBTA's Orange Line Roxbury Crossing stop. Walk down Columbus Avenue to Cedar Street to Fort Avenue. Roxbury Community College provides parking on the corner of Columbus Avenue and Cedar Street. Highland Park is wheelchair accessible. For information call 617 747-2447.
Drummer/composer/producer Terri Lyne Carrington will spotlight selections from her new CD, More To Say, an album that features her vocals and a range of musical styles: funk, r&b, neo-soul, Latin, and classic jazz. Carrington executive produced, arranged, and wrote or cowrote most of the 15 tracks. Joining her on disc are an all-star cast of jazz musicians, including George Duke, Patrice Rushen, Jimmy Haslip, Christian McBride, Danilo Perez, and Walter Beasley, and vocalists Nancy Wilson and Les McCann. The CD also features Carrington's saxophone-blowing father, Sonny, on her original "Papa San."
Carrington was born in Medford, Massachusetts. She has had an extensive touring career of more than 20 years with Herbie Hancock, Wayne Shorter, Al Jarreau, Stan Getz, David Sanborn, Joe Sample, Cassandra Wilson, Clark Terry, Dianne Reeves, and others.  Millions saw her on TV as the house drummer on the Arsenio Hall Show, and on Quincy Jones's VIBE. She was nominated for a Grammy award for her debut album, 1989's Real Life Story. She recently returned to her hometown where she was appointed professor at Berklee College of Music, her alma mater, and artistic director of the BeanTown Jazz Festival.
Opening will be the Berklee City Music All-Stars, an ensemble composed of scholarship students from Boston's urban neighborhoods. The group will perform a mix of standards, contemporary jazz, and Latin music. In April, the All-Stars performed in New York City at an event hosted by Quincy Jones to promote national music education for youth.
ParkARTS is made possible through leadership support from Bank of America. Jazz at the Fort is supported by the Friends of Highland Park.