Student Profile: Max Ridley
August 26, 2011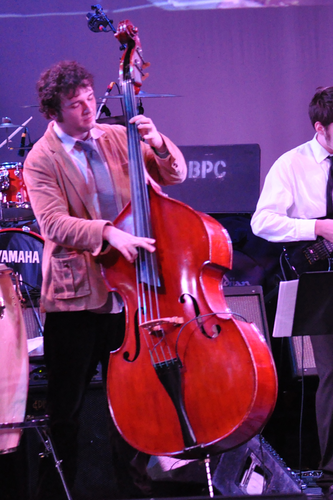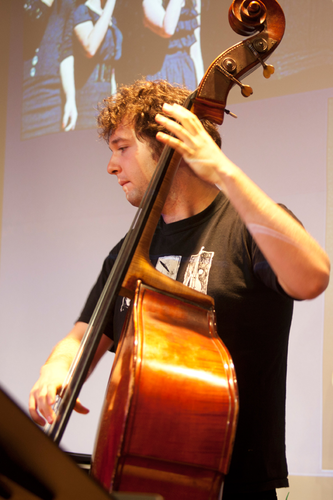 Bassist Max Ridley has attended Berklee's Five-Week Summer Performance Program four times—the last three thanks to the Berklee City Music program. The Boston native has been participating in the extracurricular music outreach program since he first started attending the Boston Arts Academy his sophomore year of high school. At the end of this year's Five-Week program, he was awarded a full-tuition City Music scholarship to attend Berklee, which he's entering this fall.
We caught up with Ridley the week that the scholarship was announced. The following is a condensed and edited version of that conversation.
Congrats on the scholarship.
I'm still on cloud nine. I found out about it Tuesday night in front of a lot of people [at the City Music Scholarship Concert]. They do it in alphabetical order, and they got through the Rs without saying my name. Then they were like, "Oh, by the way, this person's last, we lost his card." People said they thought I was going to have a heart attack.
How else has City Music helped you?
The only lessons I've had in music theory have been through City Music or through Five-Week. And I've been studying with [Berklee professor] Ron Mahdi since joining City Music, which made me a better bass player.
It's given me a lot of performance opportunities that I never would have thought possible. This past year I traveled to New York to play for Quincy Jones with the Berklee City Music All-Stars. Performing onstage at the High School Jazz Fest with Delfayo Marsalis was really cool, and playing for the Berklee Encore Gala—just a lot of performance experiences that kids my age just don't get.
The ensembles at BAA and City Music have been great, because I've made some close friends who are also really close musically. A group of us are now playing a weekly gig at Wally's in the South End: the Gregory Groover Sextet. We play every Thursday from 7:00 to 9:00. Come check us out.
How did you choose the bass?
My dad sang in the Opera Company of Boston and my mom in the Tanglewood Festival Chorus, so I joined the PALS Children's Chorus when I was younger. It was pretty fun. I took piano lessons for a while with my friend's mom, and then I started playing bass. I was interested in it because I wanted to be just like Flea from the Red Hot Chili Peppers. I was in a punk band for a while. My mom was Mrs. Classical Musician, so she said I should try upright and see how I liked it. Then I transferred to the Boston Arts Academy and found myself playing every day, and I was like, "This is awesome. Why did I not notice this before?" Just being among so many other people who are serious about music and serious about jazz. I love playing over chord changes. I could do this all day.
Will you be majoring in performance at Berklee?
I'm thinking about doing performance and pro music, because I want to take a couple ed courses, and pursue a master's degree in music ed. I want to learn how to perfect my craft before I start teaching it.
Are you teaching through City Music?
Last summer City Music asked me to be part of their prep school workshop, and they were like, "Oh, by the way, you're teaching the bass players class." They stuck me in a room with four bass players who ranged from fifth grade to eighth grade. That's kind of when I knew I wanted to be a teacher at some point. This little girl who's smaller than her electric bass, I taught her the blues scale, and she used it in her solo at the concert. I did it again this summer at this school in Mattapan. They do it every summer, and they usually ask Berklee students or City Music students to come and teach. I enjoyed it a lot. When you teach piano players or violinists who are young, their parents are making them do it. The bass players actually want to be there, so teaching them is really cool.