Saturday Night Live Keyboardist/Berklee Alumnus Plays Jazz at the Fort
July 18, 2011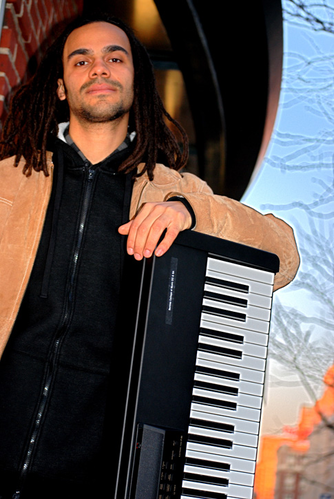 Berklee College of Music and the ParkARTS program present Jazz at the Fort with Roxbury native and Saturday Night Live band member Tuffus Zimbabwe, Sunday, August 7, 5:00 p.m. at Roxbury's historic Highland Park. Zimbabwe will be joined by his group and special guest vocalist Danny McClean.  The concert is free. The Jazz Urbane will also perform. The rain date is August 14.
Highland Park is located on Fort Avenue, Roxbury. Roxbury Community College provides parking in the lot on the corner of Columbus Avenue and Cedar Street. Folding chairs, blankets, and picnics are encouraged. The park is wheelchair-accessible. For more information, visit berklee.edu/events or call 617 747-6057.
The concert is part of Berklee's Summer in the City series, with more than 80 free outdoor events made possible by presenting sponsor Natixis Global Asset Management, committed to preserving cultural experience through the power of music.
Jazz pianist and composer Tuffus Zimbabwe is heard by millions of television viewers each week as the keyboard player with the Saturday Night Live Band. The Roxbury native, the recipient of a full-tuition Berklee City Music Continuing Scholarship, graduated from Berklee in 2005 with a dual degree in music business and film scoring. He also holds a master of music degree in jazz studies from New York University. Zimbabwe has taught in the Berklee City Music Program, at NYU's Jazz Studies program, and at numerous youth centers. He is the musical director for youth service at the Mount Zion Baptist Church of Newark. In addition to his highly visible role for SNL, Zimbabwe performs at clubs and festivals all over the United States with Ron Reid's Sunsteel, Jovol Bell's Reality, and his own group.
The Jazz Urbane is a contemporary music movement that infuses jazz with great R&B songwriting, melodies, grooves, and style. The idea, philosophically and demographically, is to share artistry that is mature, sophisticated, and creative, while providing a groove that anyone can feel. The result is a progressive cultural musical response. Band members include Berklee professor and director of Africana Studies Bill Banfield on guitar; Berklee City Music students and alumni pianist Jesse Taitt, bass player Kyle Miles, and drummer Adriel Ferguson; student vocalist Jamie Woods; and associate professor and vocalist Joey Blake.
"Our partnership with Berklee brings some of the world's finest jazz musicians to Boston's neighborhood parks," notes Boston mayor Thomas M. Menino. "Music-lovers of all ages and the musicians themselves welcome these opportunities to enjoy the arts in great outdoor spaces like Highland Park."