Berklee Blogs from Annual Trip to Rebuild New Orleans
May 6, 2011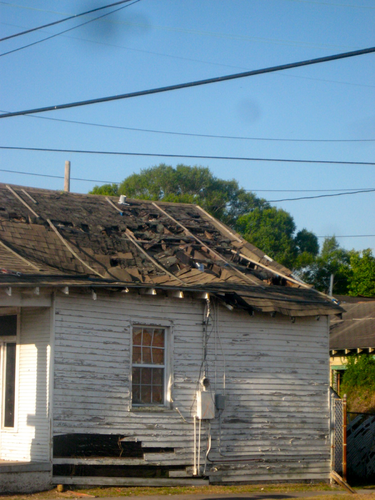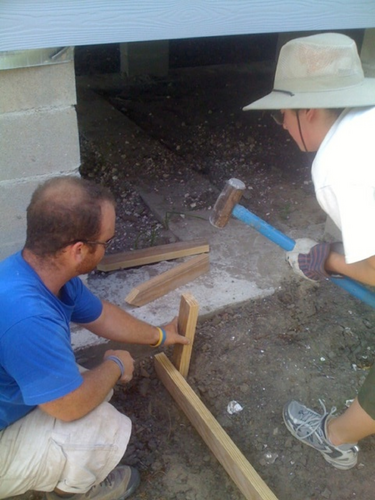 Continuing Berklee's commitment of giving back to the birthplace of jazz, the college's Gracenotes Volunteer Committee is sponsoring its fifth annual trip to New Orleans. A group of eight staff and faculty members will travel to Louisiana to work (May 10–14) in the New Orleans Musicians' Village, an ongoing Habitat for Humanity project to create new and affordable homes in the city's Upper Ninth Ward for musicians and other residents displaced by 2005 hurricanes Katrina and Rita. Including this year's team, Berklee has sponsored more than 40 staff and faculty members to help with New Orleans' rebuilding efforts. 
While much of the Musician's Village has been built—72 single-family homes and 5 elder-friendly duplexes have been completed since 2006—construction continues on a toddler-friendly park and the Ellis Marsalis Center for Music, the centerpiece of the Musicians' Village. The Berklee team will help build additional new homes in the periphery of the Musicians' Village.
Roya Hu, Gracenotes cochair and manager of Faculty Development, helped organize and participated in the college's inaugural trip in 2007. "It was disheartening to see the state of the city firsthand," said Hu. "Entire neighborhoods were wiped out. But it was also immediately clear that New Orleans' spirit would live on." Hu has returned twice since then, including last year, and observed that while the city is getting back on its feet, there is still a long way to go.
The sponsorship recipients were chosen in part based on letters of intent describing their motivations and expectations for the experience. Corinto Cevallos, technology coordinator in Student Affairs, was inspired by the sacrifices of a family member serving overseas. Michael Heyman, professor of Liberal Arts, had wanted to help since the initial crisis, and was affected by the idea that the city's unique ethnic and cultural hybrid could be threatened by disaster.
Gilly Cantor from Human Resources had seen news reports of X's and numbers painted on homes. "I can't imagine how seeing the hazards posted on the ruins must have felt to displaced survivors," said Cantor. "On the other hand, there have been additions to the graffiti that suggest fierce grit . . . images conveying hope—hearts, positive messages, proof of life statements. It's this process that is so inspiring to me. It feels like the people of New Orleans are declaring, 'We're still here!'" This trip gives Cantor a chance to answer the call with her response, "We're still here too, and we'll come back again and again for as long as it takes."
The New Orleans trip has proven to be highly rewarding, increasing the overall sense of community at the college and beyond. "I've been so moved by the sense of gratitude it engenders," said Hu. "There's an incredible bond that develops among the Berklee members that share this experience and with the other Habitat volunteers from around the country working beside us in the sweltering heat. Most importantly, there's the magical bond generated between us and the people of New Orleans."
Berklee Volunteers Traveling to (and Blogging from) New Orleans
Gilly Cantor, HRIS analyst I, Human Resources
Corinto Cevallos, technology coordinator, Student Affairs
Joe Chinni, support consultant II, Training and Support
Michael Heyman, professor, Liberal Arts
Jenna Logue, assistant director, Office of Experiential Learning; Gracenotes administrator
Leigh McLaren, senior student advisor, Berklee Media; Gracenotes administrator
Magen Tracy, internet marketing manager, External Affairs
Marian Wilson, education outreach training coordinator, Berklee PULSE, and Berklee City Music faculty
Berklee's outreach began a month after Hurricane Katrina hit in 2005, when the college organized the New Orleans Resurrection Brass Band to march in Boston for a fundraising event that featured alumni and Big Easy natives Donald Harrison and Christian Scott. That year, Berklee also initiated the New Orleans Visiting Artist series (NOVA), hosting musicians whose lives were affected by Hurricane Katrina for teaching and performing residencies. Recipients included Ellis Marsalis, Marva Wright, Harrison, and Meters bassist George Porter Jr. The 2010 Berklee BeanTown Jazz Festival celebrated the music of New Orleans on the fifth anniversary of Hurricane Katrina.
The Gracenotes Volunteer Committee strengthens relationships with the college's neighbors and allows Berklee employees to use their abilities for the benefit of the community by providing a number of service opportunities throughout the year. Annual events include volunteering at the American Red Cross Boston Food Pantry's Thanksgiving drive; establishing Berklee teams to participate in the Boston Heart Walk and providing music for the event; organizing City on a Hill, where volunteers serve as judges for Roxbury Charter High School's annual science fair; and the Mothers Rest cleanup to beautify the park in Boston's Back Bay.