Teaching the Artist to Teach
February 7, 2011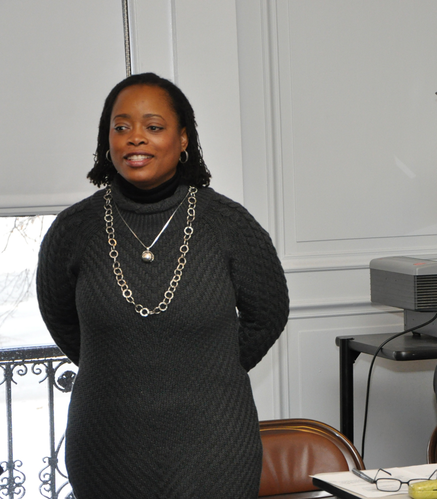 Few performers spend their entire careers on the stage these days. The music world is turning to the "teaching-artist," said Krystal Banfield, Ed.D., senior director for Berklee City Music. These are musicians who aren't full-time educators but who go into schools and companies to teach, serve, and inspire. Berklee's own fall 2010 convocation is a case in point: Bobby McFerrin spoke and sang to faculty and staff to launch the year's work.
Banfield and a panel of faculty members and administrators from the President's Office of Education Outreach addressed the phenomenon on January 11 as part of the annual Berklee Teachers on Teaching mini-conference.
For the last two decades, Berklee has cultivated these skills in its students through community outreach programs that put the college's young performers at the head of the class. Using work-study funds, the college employs students to work with urban youth at programs such as the Blue Hills Boys and Girls Club. Students also serve as mentors in City Music Boston, Berklee's on-campus program.
"You don't have to have this division between the teacher and the performer," said Greg Holt, director of City Music Boston's Saturday prep program for fourth- through eighth-graders. "The two actually support each other."
From the audience, longtime faculty trombonist Phil Wilson agreed. "Teaching, performing, writing . . . is all the same thing," he said: "Communication."
How to find those Berklee students who are right for the role?
"Whenever I work with a student I look for leadership," said faculty member Winston Maccow. Jim McCoy, director of community affairs and campus engagement, focused on students who had enough self-knowledge and maturity to work with youth who may be very different from themselves—or possibly very similar.
Berklee student pianist Jesse Taitt, a City Music grad, was well aware of the emotional demands when Maccow tapped him to serve in the mentorship program. "At first I wasn't too keen" on the idea, he said. "Being a teacher . . . it's kind of understanding people," he said.
While many focus on the benefits for the urban kids, the interchange has positive effects all around, McCoy said. "We're providing teaching opportunities for young Berklee students. We're providing them with income." And, he added, "we have a lot of fun doing it."
That mutuality makes all the difference. It's important that teaching-artists respect youth and see their role as "serving and not saving," said Abria Smith, community partnership coordinator, who went to Berklee on a City Music scholarship. "You are there to learn from your students as well."
In the end, it seemed that these teachers simply wanted Berklee students to explore the fulfillment they themselves found in bringing artistry to the classroom. Said Wilson, there to improve his teaching even after 45 years, when you reach young people, "they grow like tomato plants in August."