Above and Beyond
September 2, 2010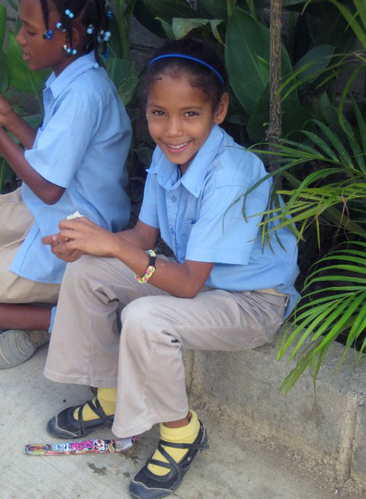 It takes a particularly selfless person to see their own act of charity as self-interested. But that's what Jennifer Manzanillo thought when she visited the Dominican Republic, where her parents grew up, for only the second time ever. She looked at kids who didn't have the opportunities she'd grown up with in Boston—and saw a little bit of herself.
"I just really wanted to go out and help. I feel it as a sort of selfish thing," says Manzanillo, a music education/professional music major now in her sixth semester. "Music has always been something precious to me and helps me express myself."
Many busy people would go online and find a "donate" button. Manzanillo found an orphanage. After connecting with Orphanage Outreach, a nonprofit that runs the Hogar La Esperanza de un Niño center in the town of Monte Cristi, last August, Manzanillo says, "I just took a risk and I went there by myself and I did a site visit."
A year later, she's the founder of a Berklee club to bring music to underprivileged communities around the world, called Beyond Borders—and she's back from their inaugural teaching trip in May to the village of Monte Cristi. The club called the trip Project HERO: Helping Everyone Reach Opportunities.
Manzanillo, now 20, entered the nine months of planning full of conviction. But she soon learned it would take practical skills, not just idealism, to get the group to the DR. Teaching, it turned out, was the easy part. Some members faded away, unwilling or unable to put in the time. "I didn't realize what I was getting myself into," she says. But she felt too passionate about the cause to quit.
She couldn't say Hebert Labbate, her mentor from Berklee's City Music youth program, didn't warn her. "This is going to be a big project and it's going to take a lot out of you," he cautioned. Then he sat her down with a calendar and helped her work out a schedule to get the trip off the ground.
He marveled at her commitment. Manzanillo attends Berklee on a full-tuition City Music scholarship for talented students from underprivileged backgrounds. "Everything she has, she had to work very hard to get," Labbate says, "and while doing that she decided to give back."
Fortunately, Manzanillo did find several equally committed heros, most notably fellow students Dewin Hernandez, Josh Kwolek, Gabriel José Peguero Céspedes, Christina Rodríguez, Hannah Slater, Josh Wood, and Lijie Yang. Together, they covered a panoply of personal experiences and skill sets—including music education, music business, and performance.
Rodríguez had been friends with Manzanillo since high school and accomplished a number of community service projects with her. "[We] have always just been people who want to give and help—it's a big passion of mine," she says.
Getting a project like this off the ground, Labbate says, is "going to make or break a team. It's going to make or break a leader. And I can safely say that the Beyond Borders team made it."
The students planned to volunteer at the Monte Cristi orphanage and a local school under the auspices of Orphanage Outreach, which would take care of logistics—housing, meals, getting to and from the airport—allowing the Berklee students to focus on their work. But the group had to raise money. Due to the newness of the project and the high demand for Berklee funds, the college couldn't help much. City Music kicked in some supplies; the Office of Community Affairs and Campus Engagement donated amps that the students traded in at Daddy's Junky Music for djembes and hand percussion.
So the would-be heros took the old-fashioned route: a benefit show and a bake sale. Or, to be exact, multiple sales on campus where they offered empanadas, hot chocolate, and beans and chicken to students, with cooking help from Manzanillo's mom. International students were especially good customers, excited to get a taste of home. In the end, the heros raised about $7,000, enough to bring everyone to the DR except Hernandez and Wood.
The sextet stayed strong through last-minute challenges. Their flight got canceled; Céspedes talked their way onto a plane. When they finally arrived, the student-teachers had to adjust the entire game plan: resources at the school were far more limited than they had expected. No copy machines, no space to break into small groups. Just 30 to 40 kids with no formal musical training, wearing neat blue-collared shirts, in a hot, noisy, and humid room. The Berklee students took the kids outside for more room, to a basketball court that doubled as a place to pile trash and offered little protection from the blazing sun.
But when the kids saw the maracas, djembes, and guitars (and bag of candy) the teachers brought, "Their faces turned from skepticism to all-around joy," Céspedes wrote for the group's trip blog. "Now they had someone giving them something new, a chance to be creative, a chance to be heard."
Three of the six Berklee visitors were native Spanish speakers, so they taught in pairs. In both the school and the orphanage they played percussion and sang, and they talked about the history of the children's own music. Only one student had formal musical training, but "their culture was full of music. They knew a lot of songs," Rodríguez says. The schoolchildren got so excited that the teachers had to hide the instruments so the kids wouldn't run off with them.
It was a world away from career-focused Berklee. Kwolek wrote for the blog, "I don't expect more than a few, if any, to pursue a career in music, but I'm hoping we can get these kids thirsting for knowledge and exposure to everything the world has to offer. I'd like to see them dreaming big. I hope they all find a desire to become well-rounded people and citizens of the world."
On the last day, one girl brought a letter to Rodríguez thanking her for teaching music. "She said in the letter that she had all these dreams and she wanted to travel," Rodríguez says. It "said everything. . . they have a lot of dreams. And it's important for us to be there."
As fall arrives, Beyond Borders' members are rolling up their sleeves to do it all again. "My heart is there," says Rodríguez. Manzanillo has revamped the group's website and is creating promotional videos to raise funds for a return visit next spring. She's also very concerned to create a structure and new leaders to keep Beyond Borders going after she graduates.
Labbate had no reservations about a 2011 trip. He says, "They are going to make it happen."