Student Profile: Matthew Witek
August 23, 2007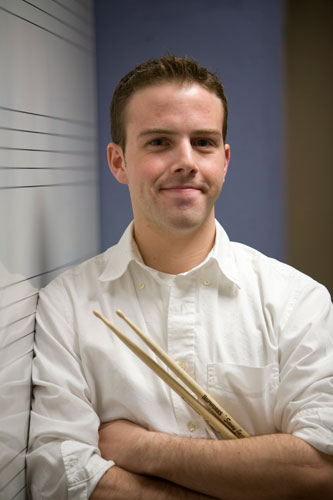 Matthew Witek learned early on that when it comes to teaching, you always need a backup plan.
The music education major discovered this firsthand through his experience teaching for the Berklee City Music program and in a classroom in Ecuador during a trip abroad.
"I'm learning how to create lesson plans, which is really important, because depending on the mood of the children, they may not want to do certain things," he says, speaking about the City Music program, for which he teaches a drum lab once a week. "They may have had a bad day or I may have had a bad day. I'm learning that you always need to have a plan B. And this is just for an hour a week. So I'm going to need thousands of plan Bs."
On his trip to Ecuador, he took courses at the Instituto de Música Contemporánea, the Berklee International Network school in Quito, and taught children music at a volunteer center. "I didn't speak a word of Spanish before I went there and I had to learn," he says. "I had to prepare every lesson the night before and then translate it. Teaching there probably equaled a year's worth of teaching. . . . These kids had never formally sung a note, but music to them was on the streets or on the radio or their mother singing to them. They would jump on the guitar and play with it like it was a toy. I thought, 'I'm going to let them explore that. So what if they break a string?' And they kept plucking the string and then they would match a note. It was just a beautiful image to see this happening."
In addition, Witek has taught percussion classes at an after-school music program in Somerville, Massachusetts and conducted workshops at the Boston Children's Museum, thanks to some networking with alumnus Marcus Santos, a Brazilian percussionist. He has also been asked by a Cambridge elementary school to create and instruct a percussion elective class.
Witek chose music education because of his combined passion for teaching and music. "If I want to invest the rest of my life in music, I want to be able to pass it on as best as possible," he says, adding that his high school band teacher was a huge inspiration. In addition to the caliber of the faculty, what really sold Witek on Berklee was seeing music education majors not only go on to teach but also continue to practice and play.
While acknowledging the challenges of the major—don't be surprised to see Witek walking around with a clarinet, flute, drum sticks, and cymbals (and that's just his morning gear)—he sees the upside of learning several different instruments. "It's great because you get to really expand in a lot of directions. . . . So you're learning how to teach and how to play at the same time."
"Education is very powerful," he says. "Through music, instead of just performing, you can take your ability to perform and enhance it. One of the best performers, Joe Lovano [Berklee's Gary Burton chair in jazz performance], teaches a master class that I've been taking recently. He takes so much time to teach and to show, and to listen. It's not just regurgitation. That is teaching at its finest."
Just as he had intended, along with his teaching engagements, Witek has managed to keep up a busy gig schedule, playing with his jazz trio (the Matt Witek Trio featuring Katie Thiroux on acoustic bass and vocals, Mika Nishimura on piano, and Witek on drums) and Santos's Brazilian percussion group BatukAxe. "I've been fortunate enough to really get out into the Boston scene," he says. Meanwhile, he's traveled to California and was invited to the Red Sea Jazz Festival in Eilat, Israel.
After Berklee, Witek says he would like to continue performing, teach music to high school students, pursue a master's degree, and eventually teach at the college level.
But for now, he'll continue on his path, learning to teach and play at the same time and making sure he has plenty of plan Bs.
Matthew's Top Five Albums
John Coltrane — A Love Supreme
Bill Evans — Sunday at the Village Vanguard
Herbert Von Karajan — Beethoven: Symphony No. 7
Miles Davis — Saturday Night at the Blackhawk
The Beatles — Sgt. Pepper's Lonely Hearts Club Band