Presented By
#BerkleeTogether Concert Series
Berklee World Strings (Virtual Performance)
This event has passed.
Please see the
events listing
for upcoming events.
Event Dates
Wednesday / October 28, 2020 / 8:00 pm
See description for how to participate virtually.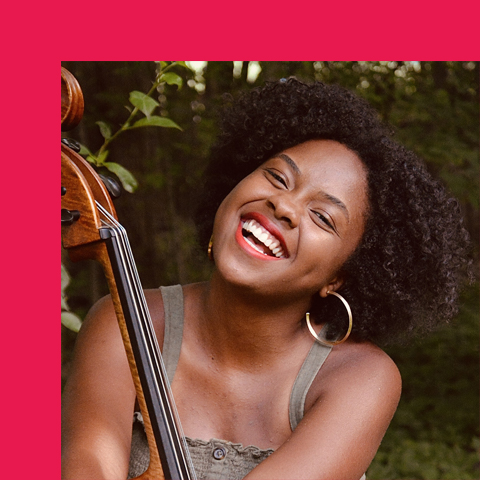 The #BerkleeTogether Concert Series features students performing together virtually from different locations around the globe. Whether at home, in a recording studio, on a balcony or a mountaintop, #BerkleeTogether videos will showcase the unique artistry and collaborative spirit of the Berklee community. Join us every other Wednesday at 8:00 p.m. EDT on Berklee's YouTube, IGTV, and Facebook pages.
This week Berklee World Strings, directed by Eugene Friesen, will perform Antônio Carlos Jobim's "Agua de beber," featuring Kely Pinheiro on voice and cello, and Noah Leong on viola.
About the Artists
Conducted by Eugene Friesen, cellist and professor in Berklee's String Department, Berklee World Strings is devoted to the art of ensemble playing and the development of new music that features improvisation and world rhythms. 
Kely Pinheiro is a Brazilian multi-instrumentalist and arranger based in Boston. She moved to the U.S. after receiving a full-tuition scholarship from Berklee College of Music. She is a classically trained cellist but grew up in a music-loving family that encouraged her to explore a variety of musical styles. She has performed in concert since she was 12 years old, participating in projects and festivals in Brazil and abroad. Her first professional tour was in 2017, playing Brazilian music throughout Germany with Rio's popular string orchestra Camerata Laranjeiras. Her most recent tour was in the fall of 2018 backing up Norwegian singer Astrid S, which led Pinheiro to be noticed by Norway's largest newspaper, Aftenposten. Pinheiro majors in performance and contemporary writing and production at Berklee, collaborating with multiple artists and working on a solo show featuring her cello and voice.
Noah Leong is a third year electronic production and design major at Berklee College of Music. An avid violist, producer, and bassist, he explores the use of traditional classical instruments in contemporary contexts. Growing up as a classically trained violist from the age of 3, he spent most of his musical education in youth orchestra and chamber groups. However, his interest in contemporary musical styles sparked when he picked up the bass guitar and began to explore jamming and improvisation. Since coming to Berklee, he has transferred those skills to his chief instrument. Currently focusing on his studies with jazz viola, production, and sound design, he strives to break down classical traditions and work towards the creation of new sounds and performance experiences.
How to Watch
Tune in at 8:00 p.m. on Berklee's YouTube, IGTV, or Facebook pages. If you miss the show, archived performances can be found on Berklee's YouTube channel, IGTV channel, or Facebook Videos page.