Slideshow: Berklee Musicians Perform with Carlos Vives and Other Top Colombian Artists
March 17, 2017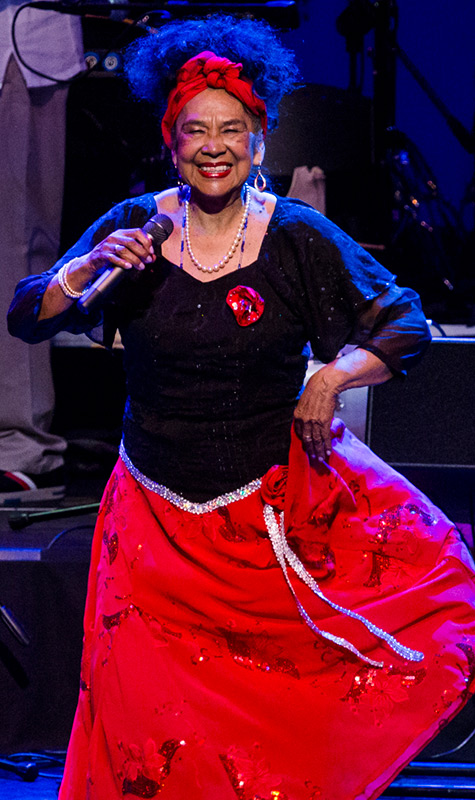 On March 7, 2017, Berklee alumni, student, and faculty musicians performed alongside some of Colombia's most renowned artists at the Teatro Mayor Julio Mario Santo Domingo in Bogotá. The lineup included multi-Grammy-winning singer Carlos Vives, who recently shared the Latin Grammy Record of the Year honor with Shakira for "La Bicicleta," a record that was engineered by Berklee alumnus Gustavo Celis '94. Vives received Berklee's 2017 Master of Latin Music Award from Berklee President Roger H. Brown.
Vives said he was honored to receive the award and called the concert "a unique and unforgettable experience," adding, "I am very grateful to the community of teachers and students who invited me to make music with them."
"The music of Carlos Vives reflects a deep love of his native Colombia. Regardless of how modern or global the sounds and rhythms of his music are, there is always the Colombian flavor," Brown said in presentating the award to Vives. "Carlos is a charismatic and powerful performer who has endured as an artist because of his unique combination of energy and sensitivity."
The concert also included Latin Grammy-winning singers Totó La Momposina, who has received the Master of Latin Music Award herself and performed as part of the Signature Series at Berklee in 2015, and Cholo Valderrama, as well as other popular artists: Monsieur Periné, Chabuco, Francy Montalvo, Herencia de Timbiquí, Mónica Giraldo B.M. '02, Marianella "Nella" Rojas B.M. '15, and current student Tonina Saputo with Javier Limón, artistic director of Berklee's Mediterranean Music Institute and Berklee Latino. Each artist was backed by a Berklee band led by Berklee Latino Executive Director Oscar Stagnaro and music director Esther Rojas B.M. '16.
Rojas took pride in assembling the Berklee band, which she says helped to deliver "an unforgettable Bogotá night that covered some of our most representative rhythms in the voices of the most important Colombian artists of these times."
Watch a video about the concert.
Deepening the Berklee-Colombia Connection
Giraldo, a Berklee trustee who organized and served as artistic producer for the event, says that the selection of artists for the concert was a concerted attempt to showcase the different sounds of Colombia, from the Carribbean coast and the Pacific to the vast interior, and adds that she sees it as the beginning of an even stronger tie between Colombia and Berklee.
"Colombia is a country with a vanguard in popular rhythms, and Berklee is the most recognized school in the study of popular music, so we must take this opportunity," says Giraldo, who is Berklee's first Colombian Advisory Council member.
The concert clearly got that ball rolling by celebrating Berklee's ongoing work in Colombia through Berklee Latino, which has frequently collaborated with Berklee International Network (BIN) member Escuela de Música, Medios, Arte y Tecnología (EMMAT), cofounded by Berklee alumnus Alejandro Cajiao B.M. '05. At EMMAT, Berklee Latino offers students in Colombia the opportunity to begin their Berklee education closer to home. Berklee Latino will host Spanish-language music courses, master classes, ensembles, and clinics at EMMAT in October, and will begin accepting applications on April 15, 2017. Last year, the program provided scholarships to 60 Colombian students who were sponsored by the combination of the Inter-American Development Bank (IDB), and three Colombian agencies: Batuta, La Red, and IDartes. This sponsorship consortium made it possible for the most talented, vulnerable youth—selected by the three agencies—to attend; the students' talent elevated the musicianship of the workshop. 
Building on that work, Berklee is also taking its program of music education for underserved students—the Berklee City Music program and the PULSE® Music Method—to Colombia, and students and alumni are building a music therapy program for former combatants in Colombia, aimed at helping them to overcome post-traumatic stress disorder (PTSD) and ease their transition into civil society. All of this work is supported via the partnership with the IDB.