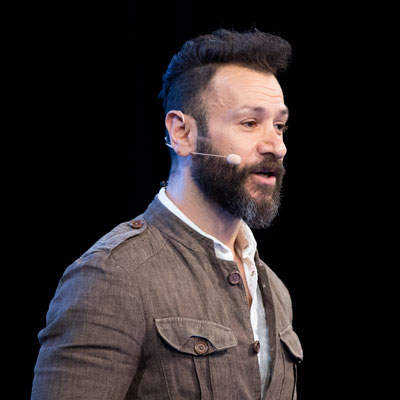 Panos A. Panay
Position
Former Senior Vice President for Global Strategy and Innovation
Biography
Panos A. Panay B.M. '94, senior vice president for global strategy and innovation, led strategic initiatives at Berklee and founded the Berklee Institute for Creative Entrepreneurship (BerkleeICE). He spearheaded the founding of the Open Music Initiative, which brings together more than 300 leading music, media, and technology industry organizations, and academic institutions focused on streamlining metadata and payment tracking for artists.
Panay led Berklee's global strategy to create an interconnected ecosystem of campuses, centers, and partnerships across the world that foster and inspire new artistic expressions, idioms, and ideas through leading pedagogy; development of cross-cultural fluency and creative capacity; and seamless integration of technology and online learning. He oversaw Berklee's campus in Valencia, Spain; BerkleeNYC; Global Initiatives; the Berklee Institute for Creative Entrepreneurship; the Berklee India Exchange; the Berklee Music and Health Institute; Berklee's institutional strategy; and Berklee's global partnerships.
Prior to Berklee, Panay was founder and CEO of Sonicbids, where he created the leading online platform for matching bands with music promoters, resulting in over 1 million new artist shows around the globe over a 13-year span. Earlier in his career, he was an international talent agent for artists such as Chick Corea and Pat Metheny.
His awards include Fast Company's Fast 50, Inc Magazine's Inc 500, and Boston Business Journal's 40 under 40, and he's a Mass Hi-Tech All Star. He was named one of the Boston Globe's Game Changers in 2017 and is a frequent speaker at global events such as the World Economic Forum at Davos, South by Southwest, Web Summit, and countless others.