Composers' Recital Series
This event has passed.
Please see the
events listing
for upcoming events.
Event Dates
Wednesday / October 6, 2021 / 8:00 pm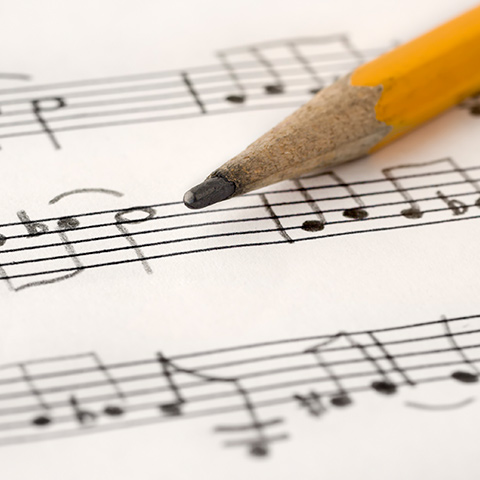 A concert featuring new works by Conservatory undergraduate and graduate composition students.
The public is invited to watch the livestream. The in-person performance in Studio 106 is only open to the Berklee community (students, faculty, staff) and invited guests.
Program Information
Repertoire
NEIL KLEIN (music and libretto), B.M. '24: Tiny House
Aoife Schenz, voice
Brooke Sanders, piano
Daniel Chouinard, cello
KJELDEN BREIDENBACH, B.M. '22: Images
Mira Steenbrugge, violin I
Che Buford, violin II
Colton Slaven, viola
Kjelden Breidenbach, cello
KILLIAN KERRIGAN, M.M. '22: Mirror Moods
Joshua Arkangel, piano
LAUREN GREENBERG, B.M. '23: Bronze
Christina Junga, violin
Claire Bostick, cello
JUSTIN TAVERAS, B.M. '22: Three Chamber Pieces
I. Harmonic
II. Suspension
III. Raindrop 
Nuala Imrie, flute
Max Reed, clarinet
Justin Taveras, acoustic guitar
Pieter Lootsma, electric guitar
James Koo, vibraphone
Florian Grand, piano
Robert Bruce, viola
Enrique Hernandez de Tejada, cello

Program Notes
NEIL KLEIN (music and libretto), B.M. '24: Tiny House
Tiny House started as a poem. I wrote it to experiment with interior rhyme schemes, because rhymes that ended phrases felt too structured for a piece of writing that I was trying to make feel like it was tumbling out of the narrator's consciousness. Soon after finishing the poem, I decided that I wanted to set it to music, and so this version of Tiny House that you are experiencing today was created. Musically, this was the most fun I've ever had writing a piece. I felt that I was able to truly put myself into this work and give it so much of myself. Which fits, because Tiny House, at its core, is about love. It is about freedom in finding love, and the small but powerful joys one experiences when they are in it. The last line of this piece is: "But it will always return to love at its source." I believe this describes everything I write, everything I try to be, and perhaps even, the entire world.
—Neil Klein, composer/librettist
Tiny House Libretto:
I know that I'm in love with him, but am I in love?
These things are different hands that wear the same glove
The reason I ask is I often wear glasses that make me think past is
Not going to repeat. 
But I have to be smart and so I have to start thinking with my head
Not let only my heart decide
Though I've tried
I always give love with all of my pride
I think I'm in love
But that is too sweet and we often repeat that we think dark
chocolate is the superior treat
Can't hold it in much longer, love is simply stronger than my 
Concerns that I've learned always return no matter how much I think they've been conquered.
But of course when I tell him, it goes not as planned, but instead it
Goes so much more grand and as I stand here I thought I had fear
But all I have dear is one single tear that tells me everything's great
And I didn't have to wait I could say what I felt and see him melt like
We're fate
A tiny house
He wants to live in a tiny house
He likes their style, they make him smile, and I remember watching those shows as a child
So when his love of them grows to include me within one it takes
everything  in me to not simply bring one right to his door with
Scrapes still on the floor
I like tiny houses
So the question that caused me to pause and ponder was really no
Question at all, we will fall as we wander
I love him and I'm in love but of course now I say this with no 
remorse then I'll find him the tiny house of his dreams and we can
give it a theme or move it next to a stream but it will always return to
love at its source
KJELDEN BREIDENBACH, B.M. '22: Images
Images can be a powerful thing in our memory and recollection of life. Over time, they can be changed and skewed to represent why we were drawn to them in the first place. The images in our memory, and how we shape them, make us who we are.
—Kjelden Breidenbach, composer
KILLIAN KERRIGAN, M.M. '22: Mirror Moods
Mirror Moods was written for a 48 hour composition challenge. The piece explores the range of emotions experienced while composing.
—Killian Kerrigan, composer
LAUREN GREENBERG, B.M. '23: Bronze
Bronze is an alloy of tin and copper. The combination of metals gives bronze a greater strength and resistance to corrosion. Together they bond to create a toughness unattainable on their own.
—Lauren Greenberg, composer
JUSTIN TAVERAS, B.M. '22: Three Chamber Pieces
These pieces deal with brevity in the larger ensemble.
—Justin Taveras, composer
Music Division and Performance Services
MUSIC DIVISION
Dean of Music
 – Michael Shinn
Chair of Voice – Patty Thom
Chair of Instrumental Studies – Matthew Marsit
Chair of Composition, Contemporary Music, and Core Studies – Jonathan Bailey Holland
Chief Ensemble Operations Coordinator – Ryan Fossier
Ensembles Coordinator – Victoria Garcia
Administrative Coordinator – Chantel O'Brien
PERFORMANCE SERVICES
Director of Performance Services – Liz Keller-Tripp
Director of Audio/Visual Services – Richard Malcolm
Audio/Visual Specialist – Phil Roberson
Associate Director of Concert Services – Ryland Bennett
---
Special thanks to all audience members for viewing this program information online. Viewing this information digitally has saved 200 sheets of paper—that's 21 gallons of water preserved and 18 pounds of CO2-equivalent greenhouse gas emissions eliminated.
---