Composers' Recital Series
This event has passed.
Please see the
events listing
for upcoming events.
Event Dates
Wednesday / November 17, 2021 / 8:00 pm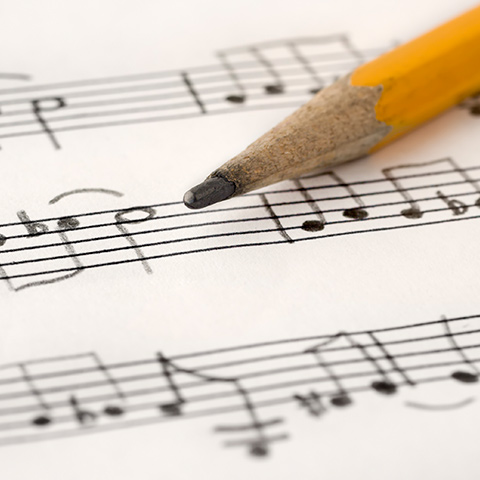 A concert featuring new works by Conservatory undergraduate and graduate composition students.
The public is invited to watch the livestream. The in-person performance in Studio 106 is only open to the Berklee community (students, faculty, staff) and invited guests.
Program Information
Repertoire
JACKSON ALFREY (B.M. '25): "I Stood in a Forest for a Moment"
Mason Davis-Clarinet, piano
Andrés Celis-Cello, piano
Mauricio Campos Gonzalez, piano 
CHLOE SMITH (B.M. '25): "Rejection"
Leon Baker III, violin
John Tobin, viola
ZEXUAN DING (M.M. '23): "Flower Shadows"
Julian Gau, conductor
Noah Century, clarinet
Che Buford, violin
Nick Politi, cello
Zedong Cai, piano
PETER ZHAOYANG HAN (B.M. '25): Brass Quintet in E-flat, Op.10
Fanfare: Allegro-Andante
Allegro vivace
Chorale: Liebster Immanuel, Herzog der Frommen, Andante non troppo-Recitative
March
Robert Adams, trumpet
Justin Taveras, trumpet
Maya Schiek, horn
Lauren Galarraga, trombone and euphonium
Kofi Temeng, tuba
Program Notes
JACKSON ALFREY (B.M. '25): "I Stood in a Forest for a Moment"
This piece is based on a relatively simple experience I had a few weeks ago where I looked out the window and was reminded of my home in Ohio. Just out the window there was a single tree whose leaves completely covered the view. In contrast to the new pressure of this city, this was a very profound moment that threw every bit of pressure off my shoulders. This piece is written as a direct response to haiku I wrote about this very instance:
Months of sirens
Fall off my shoulders
In a forest again
It's a simple emotional experience, so simple melodies carry the piece, and are decorated by various textures to create different contexts of the forest. Lastly, new textures develop as the piece comes to a close and these different moments are laid on top of each other.
—Jackson Alfrey, composer
CHLOE SMITH (B.M. '25): "Rejection"
This duet for violin and viola is meant to capture the feelings of rejection, whether it be societal, familial, romantic, or religious. All of us have experienced at least one—or all—of these forms of rejection. The beginning embodies the preparation to give yourself to a person. You may be calm and collected, formulating how you're going to present yourself. But as the music progresses and the time comes for you to actually speak, you feel hesitant, anxiety making your stomach churn and do backflips. Then, towards the end, you finally express yourself...and then you hear a "no." And then you're frozen, your words are caught in your throat, and you feel your heart drop...which is why the music ends without ever finishing the beginning motif.
—Chloe Smith, composer
ZEXUAN DING (M.M. '23): "Flower Shadows"
"moonlight penetrating through the dark to the ground, shadows of flower swaying all around." 
The piece is aimed to express the emotion of this poem I penned, depicting the "shadows of flower swaying all around" under the moonlight. The flower branches are swaying, and the shadow of the flowers is changing with their state.
—Zhang Xian, composer
PETER ZHAOYANG HAN (B.M. '25): Brass Quintet in E-flat, Op.10
Writing a brass quintet with a fanfare beginning has been a desire I had for a long time. As I have access to all these fantastic brass instruments, I think a fanfare is very appropriate with this instrumentation. In the second movement, I prepared a sonata-allegro movement for you, which I do all the time. The third movement incorporates a Bach chorale, as I am trying to present a little drama for you. The last movement is a Sousa-style March, in honor of the 167th birthday of John Philip Sousa on November 6, when I was composing this movement. Personally, I like Sousa's march, mostly because of my experience in marching band, and I think such form works for the brass quintet instrumentation. Overall, I hope you enjoy this piece.
—Peter Zhaoyang Han, composer
Music Division and Performance Services Staff
MUSIC DIVISION
Dean of Music
 – Michael Shinn
Chair of Voice – Patty Thom
Chair of Instrumental Studies – Matthew Marsit
Chair of Composition, Contemporary Music, and Core Studies – Jonathan Bailey Holland
Chief Ensemble Operations Coordinator – Ryan Fossier
Ensembles Coordinator – Victoria Garcia
Administrative Coordinator – Chantel O'Brien
PERFORMANCE SERVICES
Director of Performance Services – Liz Keller-Tripp
Director of Audio/Visual Services – Richard Malcolm
Audio/Visual Specialist – Phil Roberson
Associate Director of Concert Services – Ryland Bennett
---
Special thanks to all audience members for viewing this program information online. Viewing this information digitally has saved 200 sheets of paper—that's 21 gallons of water preserved and 18 pounds of CO2-equivalent greenhouse gas emissions eliminated. 
---