This event has passed.
Please see the
events listing
for upcoming events.
Event Dates
Thursday / December 9, 2021 / 8:00 pm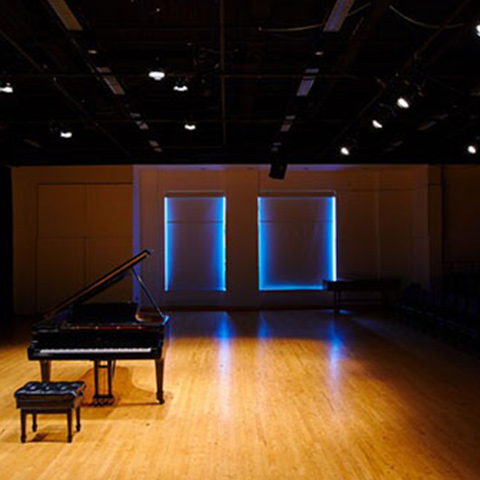 The Boston Conservatory Choruses (Choir, Chorale, and Conductors' Choir) come together for a shared performance to close the semester. Chorale and Conductors' Choir present works for choir and strings, including Ludwig van Beethoven's beloved Elegischer Gesang, a memorial ode written for a dear friend. Conductors' Choir presents To the Hands, a response by the Pulitzer Prize-winning contemporary composer Caroline Shaw to a work of the baroque composer Dietrich Buxtehude of the same name. Choir shares four works in a preview of its invited showcase performance at the upcoming American Choral Directors Association Eastern Division conference in Boston in February.
Nathan Reiff and Corey Everly, conductors
The public is invited to watch the livestream on December 9. The in-person performance in Studio 401 are only open to the Berklee community (students, faculty, staff) and invited guests.
Program Information
Repertoire
SHAWN OKPEBHOLO: "Deep River"
Paulina Rodriguez, soprano
DALE TRUMBORE: "Breathe in Hope"
SHAWN KIRCHNER: "Little Rose"
CARSON COOMAN: "Golden Callings"
CAROLINE SHAW: To the Hands
Prelude

in medio / in the midst

Her beacon-hand beckons

ever ever ever

Litany of the Displaced

i will hold you
JOSEF RHEINBERGER: "Die Nacht," op. 56
LUDWIG VAN BEETHOVEN: "Elegischer Gesang," op. 118
PĒTERIS VASKS: "The Fruit of Silence"
JAKE RUNESTAD: The Hope of Loving
Yield to Love

Wild Forces

Wondrous Creatures




Jackson Schroeder, tenor

The Heart's Veil

My Soul is a Candle




Emily Bartlett, soprano




Abraham Cruz, bass

The Hope of Loving
Program Notes
SHAWN OKPEBHOLO: "Deep River"
Shawn Okpebholo's arrangement of the spiritual "Deep River" is poignant, searching, and richly layered. The piano provides a tender and longing accompaniment of pulsing chords which at times suggest hymn tunes or gospel works coming in and out of focus. Above that, the voices sing dense harmonies that convey the powerful longing and faith of the traditional text. The piece ends as it began, seeming to fade away from view without answering whether that longing has been resolved.
DALE TRUMBORE: "Breathe in Hope"
"Breathe in Hope" carries forward the longing of "Deep River," but charges it with a more specific action: to not recover too soon from pain, but rather to dig in and gather strength in that experience to create change. The text of the piece was drawn from two Facebook posts responding to the deaths of Philando Castile and Alton Sterling, two Black men shot and killed by police officers in 2016. The composer writes: "When confronted with tragedy, we may instinctively search for hope and healing. In the face of violent injustice, though, maybe the hope we seek can only be found when we recognize our own accountability and ask what actions we can take to create lasting change."
SHAWN KIRCHNER: "Little Rose"
Shawn Kirchner has described the text of "Little Rose" as responding to the refugee crisis, with the image of a walled garden as a symbol for the love of a mother for her child. The composer was drawn to quote lines from the spiritual "Steal Away"—specifically the text "I ain't got long to stay here"—because "no refugee mother abides long in one place, nor does any child stay safe within a mother's arms for very long."
CARSON COOMAN: "Golden Callings"
Elizabeth Kirchner's beautiful poem "Golden Callings," set powerfully by Carson Cooman, draws together each of the above thematic strands. The unnamed speaker in the poem walks a trail outdoors, contemplating the beautiful sounds and sights of nature. Ultimately, the natural world becomes an inspiration and even an engine to move us through those things which wound or break us. By the end of the poem and the piece, a new sense of resolve has emerged, and we seem prepared to rise up stronger than before.
CAROLINE SHAW: To the Hands
To the Hands was written as a response to Ad manus by the Baroque composer Dietrich Buxtehude. The composer writes: "To the Hands begins inside the 17th century sound of Buxtehude. It expands and colors and breaks this language, as the piece's core considerations, of the suffering of those around the world seeking refuge, and of our role and responsibility in these global and local crises, gradually come into focus."
Read the composer's full notes about this piece here. 
JOSEF RHEINBERGER: "Die Nacht," op. 56
Josef Rheinberger's setting of Eichendorff's dark, romantic "Die Nacht" utilizes violin, viola, cello, and piano to create a rich, lush texture. The harmony shifts constantly throughout the piece, with each vocal line full of searching chromatic inflections. While this is typical of the sound of late-19th century German Romantic choral music, in this case it is also especially fitting with the images of the "eerie lament" of the nightingales in the wood and the mysterious rustling of the trees.
LUDWIG VAN BEETHOVEN: "Elegischer Gesang," op. 118
Beethoven composed his "Elegischer Gesang," or elegiac song, in support of his friend and patron Baron Johann Pasqualati, whose wife had died in childbirth a few years earlier. Written in 1814, the piece marks an important and difficult transition in Beethoven's career, to a period in which he composed very few works of lasting significance but rather seemed to be searching for a new sound. Similarly, the music of "Elegischer Gesang" seems to seek something—a sense of resolution at the death of a spouse or close friend as well as a musical resolution following long phrases which seem to struggle to come to a close.
PĒTERIS VASKS: "The Fruit of Silence"
Latvian composer Pēteris Vasks' setting of Mother Teresa's prayer provides a soundscape that invites the listener to meditate. Succinct counterpoint and compelling harmonic motion draws the listeners to individual lines representing The Cross. The text links together the act of silence to peace and reminds us of the inner peace that can be achieved through silence and mediation.
JAKE RUNESTAD: The Hope of Loving
About The Hope of Loving, the composer writes: "The work begins with the string quartet playing a descending sequence of a single musical interval—the perfect fourth. This interval appears throughout the work as a musical motive but also a sign post; acting as a sort of character or embodiment of love. The string quartet, soloists, and chorus serve equal roles throughout the work in bringing these mystical words to life. In each of the six movements, I have endeavored to capture various ways we, as humans, respond to and act on our idea of love; hopefully creating opportunities for introspection and realization.
Love is our most valuable resource, our most precious possession, our doorway into fostering compassion. May you consider these texts and this music with an open mind and ask yourself, "to whom can I give more love in my life?" For it is through love, both given and received, that our world can change."
Texts and Translations
OKPEBHOLO: "Deep River"
Deep river, my home is over Jordan.
Deep river, Lord, I want to cross over into campground.
Oh, don't you want to go to that gospel feast,
That promised land where all is peace?
Walk into heaven and take a seat,
And cast my crown at Jesus' feet.
Deep river, Lord, I want to cross over into campground.
—Traditional
TRUMBORE: "Breathe in Hope"
What would we do if we didn't have the privilege of being distracted?
I know we must honor our personal lives.
I know we must not live in darkness.
I know we must celebrate the grace in our humanity.
To keep our lungs from collapsing.
We must breathe in hope.
And so have I. Taken in joy. And beauty. And selfishness. And frivolity. And laughter. We are wonderful. Humans. We find the light.
But I fear the moment passing.
Already distracted from the fire though the smoke is still filling our lungs.
This is going to sound wrong.
But I hope this pain lasts.
I hope that it holds.
I don't want to heal
just yet.
We have become experts at recovery.
I hope we become expert at Revolution.
—Maya Jackson
KIRCHNER: "Little Rose"
I ain't got long to stay here…
Hush-a-hush, the wind's a-blowing,
but it's quiet in the garden,
Grow in peace, little rose, for a while.
Hush-a-hush, the rain is falling,
but it's dry beneath the bower,
Rest your head, little rose, for a while.
Little rose, little rose
Little breath of Love Divine,
None like you will ever be:
The newest flow'r on the Oldest Tree.
Little rose, little rose,
Born to heal the wounds of Time,             
None like you ever was, little rose.
Hush-a-hush, the storm is raging,
Hide you here, in the garden,
Bide in peace, little rose, yet a while.
Soon enough you will be going,
Look for friends to gather round you;
They will be, little rose, your garden wall.
(Thorns will do, when you find none at all.)
Little rose, little rose…
—Kirchner, traditional
COOMAN: "Golden Callings"
On the silky hillocks of the sea, 
peach-scented rays are splayed upon turquoise waters
while sky lifts its heavy lids. 
I walk along the trail, surrender
to melodies that move through solitude, dream
of the elegant bones inside birds, their tiny
voice boxes, golden callings, rising and falling
at once. The compost in my wounds
composes me as does the rich
roux of sorrow that burrows into my soul's
creamy marrow. I see wintry, ghostly cocoons
pinned like corsages on low brush, red,
red berries impaled upon very broken
branches. Within the spun strands, the promise
of flurrying wings and soon, soon,
my wounds, your wounds and our very
brokenness will be what awakens us greatly.
To go on means to go in, give in, to rise
and fall at once because that's what grace does.
Resist at first, if you must, but then hold on.
—Elizabeth Kirschner
SHAW: To the Hands
II. in medio 
II. in the midst
quid sunt plagae istae
what are those wounds
quid sunt plagae istae in medio manuum tuarum
what are those wounds in the midst of your hands
in medio
in the midst
quid sunt plagae istae
what are those wounds
quid sunt plagae istae in medio manuum nostrarum
what are those wounds in the midst of our hands
—Zechariah 13:6, adapted Shaw
III. Her beacon-hand beckons
Her beacon-hand beckons:
give
give to me
those yearning to breathe free
tempest-tossed they cannot see
what lies beyond the olive tree
whose branch was lost amid the please
for mercy, mercy
give
give to me
your tired fighters fleeing flying
from the
from the 
from
let them
i will be your refuge
i will be your refuge
i will be
i will be
we will be
we will
—Emma Lazarus, adapted Shaw
IV. ever ever ever
ever ever ever
in the window sills or
the beveled edges
of the aging wooden frames that hold
old photographs
hands folded
folded
gently in her lap
ever ever
in the crevices
the never-ending efforts of
the grandmother's tendons tending
to her bread and empty chairs
left for Elijahs
where are they now
in caverna
in caverna
—Shaw
V. Litany of the Displaced
"The choir speaks global figures of internal displacement, sourced from the Internal Displacement Monitoring Centre (http://www.internal-displacement.org/global-figures — accessed 01/03/2016). The numbers spoken are the numbers of internally displaced persons by country, in ascending order. These are people, some of whom may have legal refugee status, who have been displaced within their own country due to armed conflict, situations of generalized violence or violations of human rights."
—Note from composer
VI. i will hold you
i would hold you
i would hold you
ever ever will i hold you
ever ever will i enfold you
in medio
in medio
in medio
in medio
in medio manuum tuarum
—Shaw
VASKS: "The Fruit of Silence"
The fruit of silence is prayer.
The fruit of prayer is faith.
The fruit of faith is love.
The fruit of love is service.
The fruit of service is peace.
—Mother Teresa
I. Yield to Love
I know about love the way the fields know about light,
the way the forest shelters us.
We are vulnerable like an infant.
We need each other's care or we will suffer.
How will you ever find peace unless you yield to love?
—Rabia
II. Wild Forces
There are beautiful, wild forces within us.
Let them turn millstones inside
filling bushels that reach to the sky.
—St. Francis of Assisi
III. Wondrous Creatures
O wondrous creatures, by what strange miracle do you so often not smile?
—Hafiz
V. My Soul Is a Candle
My soul is a candle that burned away the veil;
only the glorious duties of light I now have.
The soul is a candle that will burn away the darkness;
only the glorious duties of love we will have.
Tenderly, I now touch all things, knowing one day we will part.
—St. John of the Cross
VI. The Hope of Loving
What keeps us alive, what allows us to endure?
It is the hope of loving, of being loved.
We weep when light does not reach our hearts.
We wither like fields if someone close
does not rain their kindness upon us.
My soul has a purpose, it is to love.
—Meister Eckhart
RHEINBERGER: "Die Nacht," op. 56
Wie schön hier zu verträumen
How lovely it is here to dream away 

Die Nacht im stillen Wald,
the night in the quiet woods,
Wenn in den dunklen Bäumen
when in the dark trees
Das alte Märchen hallt.
the old fairy-tales echo.
 
Die Berg' im Mondesschimmer
The mountains stand shimmering in the moonlight
Wie in Gedanken stehn,
as if deep in thought,
Und durch verworrne Trümmer
and through the tangled undergrowth
Die Quellen klagend gehn.
the stream rambles, lamenting.
 
Denn müd' ging auf den Matten
For wearily upon the meadow,
Die Schönheit nun zur Ruh',
Beauty walks now to her rest, 
Es deckt mit kühlen Schatten
and with cool shadows
Die Nacht das Liebchen zu.
Night covers up the dear one.
 
Das ist das irre Klagen
There is an eerie lament
In stiller Waldespracht,
in the quiet splendour of the wood:
Die Nachtigallen schlagen
the nightingales sing
Von ihr die ganze Nacht.
about her the entire night.
 
Die Stern' gehen auf und nieder—
The stars rise and set—
Wann kommst du, Morgenwind,
When will you come, morning wind,
Und hebst die Schatten wieder
and lift the shadows again
Von dem verträumten Kind?
from the dreaming child?
 
Schon rührt sich's in den Bäumen,
There is already a rustling in the trees,

Die Lerche weckt sie bald—
The lark will awaken soon—
So will ich treu verträumen
Thus would I like faithfully to dream away
Die Nacht im stillen Wald.
The night in the quiet woods.
—Joseph von Eichendorff
BEETHOVEN: "Elegischer Gesang," op. 118
Sanft, wie du lebtest,
As gentle as you have lived,
hast du vollendet,
have you died,
zu heilig für den Schmerz!
too holy for sorrow!
Kein Auge wein' ob
Let no eye shed a tear
des himmlischen Geistes Heimkehr.
for the spirit's heavenly homecoming.
—Johann Cristoph Friedrich Haug
Performers
ORCHESTRA
VIOLIN
Eun Joo Ahn
Rachael Teller
VIOLA
Robert Bruce
CELLO
Heechan Ku
BASS
Justin Phillips

CHOIR
SOPRANO
Rylie Austin
Claire Burreson
Marissa DuVall
Ruijing Guo
Sophia Holston
Klara La Guardia
Rachel London
Sarah Mair
Sofia Martinez
Sarah Mesibov
Grace Ann Miller
Caitlin Otto
Paulina Rodriguez*
Alex Roges
Laura Santamaria-Mendez
ALTO
Jenny Baena-Brito
Taylor Bailey
Yan Cui
Chirbee Dy
Paulina de la Fuente
Madeline Lee
Montserrat Martinez Buganza
Lucy Mae Martindale
Elizabeth Munoz
Maisy Parker
Daniela Pyne
Aoife Schenz
Victoria Schmidt
Hanqing Sun
Xin Zheng

GRADUATE CHORAL ENSEMBLE
SOPRANO
Madison Hablas
Danielle Roach
Karina Mandock Saldivar
ALTO
Joseph Kingsbury
Elza Manoj
Rose Van Dyne
TENOR
Charlie Aurand
Clayton Edwards
Felix Aguilar Tomlinson
BASS
Jiahao Fu
Austin Martin
Tianming Qi
Billy Xiong

CHORALE
SOPRANO
Francesca Coverini
Gracie Curran
Kit Flaherty
Chloe Gardner
Jayden Goldberg
Natalie Hansel
Maria Leonardi
Avery Richards
Kayli Swanson
Treshor Webster
ALTO
Emily Bartlett
Anna Bryk
Alena Feldman*
Delilah Rau
Cait Winston
Sophia Ysrael
TENOR
Nick Alessi
Alexander Georgopoulos
Blake Hopkins
Gabriel Muenzer
Anthony Paredes
Jackson Schroeder
Andrew Steele
Charles Wolfer
BASS
Barret Allen
Devon Bain
Donato Celentano
Abraham Cruz
Junze Gong
John Moorman
Vaughn Nesmith
Alex Robinson
Shouzheng Wei
*Student Ensemble Manager
Music Division and Performance Services
MUSIC DIVISION
Dean of Music
 – Michael Shinn
Chair of Voice – Patty Thom
Chair of Instrumental Studies – Matthew Marsit
Chair of Composition, Contemporary Music, and Core Studies – Jonathan Bailey Holland
Chief Ensemble Operations Coordinator – Ryan Fossier
Ensembles Coordinator – Victoria Garcia
Administrative Coordinator – Chantel O'Brien
PERFORMANCE SERVICES
Director of Performance Services – Liz Keller-Tripp
Director of Audio/Visual Services – Richard Malcolm
Audio/Visual Specialist – Phil Roberson
Associate Director of Concert Services – Ryland Bennett
---
Special thanks to all audience members for viewing this program information online. Viewing this information digitally has saved 200 sheets of paper—that's 21 gallons of water preserved and 18 pounds of CO2-equivalent greenhouse gas emissions eliminated. 
---