This event has passed.
Please see the
events listing
for upcoming events.
Event Dates
Friday / April 30, 2021 / 2:00 pm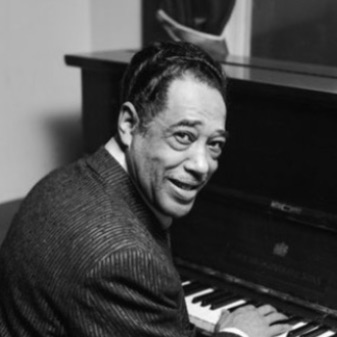 Join Roger H. Brown, Cathy Young, and the global Berklee community on Friday, April 30, from 2:00 p.m. to 2:40 p.m. ET, to celebrate the recipients of the inaugural Berklee Legacy Awards. The Legacy Award has been established to recognize the achievement of Black artists who have inspired and made a tremendous impact on the world. These awards will honor outstanding figures who have received a Berklee honorary doctorate and/or devoted time, wisdom, and mentorship to members of the Berklee community. 
The online program will highlight their artistry, impact on the community, and the ideals for which they were chosen. We will also enjoy student and faculty tribute performances of each artist's work. 
For more information or questions, please contact Alissa Minot or development@berklee.edu. 
---
2021 Honorees for Berklee College of Music
Duke Ellington '71H (1899–1974)
Jazz visionary, composer, and influential mentor to Berklee students and faculty during his time as a visiting artist, Duke Ellington will be among our inaugural Berklee Legacy Award recipients. His accomplishments are too many to list, but include 14 Grammy wins, the Presidential Medal of Freedom, the French Legion of Honor, and a posthumous special Pulitzer Prize for his lifetime contributions to music and culture.
Sarah Vaughan '78H (1924–1990)
Hailed as one of the most influential American jazz singers of the 20th century, Sarah "Sassy" Vaughan inspired a generation of musicians. Her accolades include four Grammy Awards, including the Lifetime Achievement Award. She also made an indelible impact on our Berklee community and was the first Black American woman to receive an honorary degree from Berklee.
---
2021 Honorees for Boston Conservatory at Berklee
Joseph Douglass (1871–1935)
A groundbreaking classical violinist and grandson of American abolitionist Frederick Douglass, Joseph Douglass blazed a trail for Black Americans in classical music. Influenced by his father and grandfather, both of whom were amateur violinists, Joseph studied at the Boston Conservatory in the late 1880s/early 1890s. A dedicated teacher, Douglass also held tenured positions at Howard University and the Colored Music Settlement School in New York City.
Carmen de Lavallade '94H (b. 1931)
Dancer, choreographer, and actress Carmen de Lavallade began her dance career in high school, joining the Lester Horton Dance Theater in 1949, where she was lead dancer. She was a close friend of Alvin Ailey's, and collaborated with him to shape his eponymous troupe, which remains among the world's premier dance companies. She has been recognized with numerous awards, including, most recently, the Kennedy Center Honors. For her extraordinary artistic accomplishments, dedication to the next generation of talent through education and mentoring, and commitment to activism through art, de Lavallade is an inspiring inaugural recipient of the Berklee Legacy Award.
---
Inaugural Legacy Award Committee
Sean Skeete, chair, Ensemble Department
Prince Charles Alexander, professor, Music Production and Engineering
Mila Thigpen, chair, Dance Division
Jackson Grove, student
Evan Menifee, student
Maureen Hickey, vice president for real estate
Cindy Albert Link, senior vice president, Institutional Advancement